November 24th will be NO Cattle Market due to the Thanksgiving Holiday.
Sumter Livestock Market
The Sumter County Livestock Market is one of the largest Cattle Auctions in the Southeastern United States.
We receive cattle starting Monday evening from 4 p.m. to 9 p.m. and again on Tuesday morning starting
at 7 a.m. All grown animals need to be in line by 11:30 a.m. as we sell those animals first.
Mark Harrell / Manager
George Smith / Foreman
Delores Lewis / Office Manager

Sumter County Cattle Market Sales Rates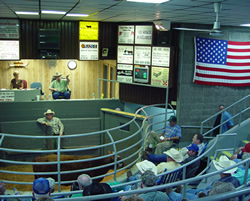 Cattle Market Information ...
We receive cattle starting Monday evening from 4 p.m. to 9 p.m. and again on Tuesday starting at 7 a.m. . All grown animals need to be in line by 11:30 a.m. as we sell those animals first.
Cattle Market Reports